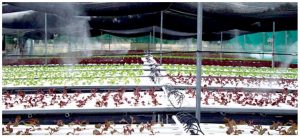 Keep your livestock, pets and plants cool With mid-pressure and high-pressure misting systems from Mist Works.
Mist systems for agriculture, nature and livestock can be for cooling, odor control and / or humidity control. Horse stables, barns, dog kennels, nurseries, etc. We can help keep them cool and deter flies and flying pests With our misters.
In extremely hot summer in Dubai and all UAE, the need for such outdoor cooling systems arise as these have proven benefits including:
Save animals from fatal heat-stress
Increase production
Improve health conditions
Embedding optional dosing units to spray within the mist if needed
Ask us about prep studies on dairy cows produce misters that have more milk!