Outdoor Cooling for Hotel and resort Industry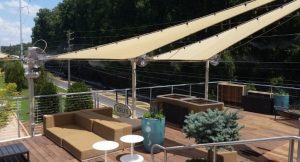 High-pressure systems for outdoor cooling mist at restaurants, cafes, hotels, resorts, casinos, bars, pools, event venues, cruise lines, theme and amusement parks are an affordable way to Increase you guests experience with you. These type of systems can drop temperatures up to 10 degrees without wetting or frizzy hair! Yes, high-pressure mist systems do work in humid climates like Dubai and Abu Dhabi.
The hospitality industry depends on customers for income and ROI. Using mist Systems with our outdoor all-weather fans to cool off outdoor areas During the hotter months, you can Increase the comfort level of your guests and make use of the outdoor of That May sit empty due to temperatures in Summer. Comfortable customers Tend to be happy customers and They May stay longer and spend more.
Also misters can Patio Attract Customers with the fog effects That Creates a mist system. Call us today to find out how our outdoor cooling mist systems can help you.