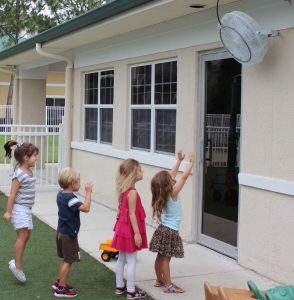 Looking for an effective and affordable way to keep your employees, customers and patrons cool outdoors During the blazing hear of UAE's summer? We have the answer! Our professional, commercial grade high pressure misting systems and fans can create cooling breezes and temperatures decrease in just a few seconds (even in humid climates!). Best of all, no frizzy hair or wetting surface!
How does mist cool, you ask? Well, using our high pressure mist pumps running at 700-1000 psi and extremely small orifice nozzles, super fine mist (droplets smaller than the diameter of a human hair, less than 5 microns) is created and is Quickly evaporated when it comes in contact with heat (energy) Which removes heat from the air-this process is "flash evaporation". The finer the mist, the faster the evaporation, the faster the evaporation the more heat (energy) removed from the air. Depending on conditions, temperatures can be up to 10 Decreased c° in a matter of seconds.
We can create eye-catching Past fog effects to draw attention to your business … Mist your building facade, roof or sign to catch potential customer's eyes!
We offer custom designs and installs misting systems and we Also offer DIY kits mist nozzle.
Let us work with you to choose Which of our misting system will work best for you and your budget.