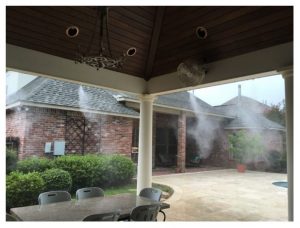 Backyard Patio & Residential Mist Cooling Systems
Mist systems are efficient & affordable! Cool off decks, pergolas, patios, porches, courtyards, outdoor kitchens, BBQ's, boat houses, garages, workshops, camps, etc.
We can help your outdoor area be more pleasant with a mist system designed just for you. Perimeter mist flying lines help keep pests away, and systems can be used for mist-scaping and fog effects in pool areas, waterfalls, ponds, lanais, and landscapes.
We offer high and mid-pressure kits complete misting systems Along With custom for your needs (and budget)!