Dust suppression and Odor Control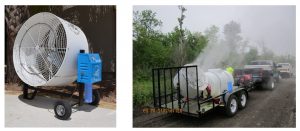 Looking for an effective odor control Or dust suppression system? Our high pressure (and mid-pressure) misting systems are used for cooling outdoor areas, but did you know That mist works for commercial and Industrial odor control? we can provide you with custom build Dust suppression misting systems controlling odor and trailers for Reducing odors.
We offer neutralizing solutions and the natural enzymes That are environmentally friendly, non-ozone depleting and whos remove the odor from the air (not just mask it), and work for organic and non-organic waste. Our products can aid in odor reduction in compactor rooms, garbage dumpsters, landfills, trash chutes, transfer stations, ponds, compost piles, livestock waste areas, waste treatment facilities, chemical plants and anywhere malodors May be present.
Looking for custom project for controlling odor your company? We can build mist systems for your application. Contact us for more information.